Rudraksha 8 Mukhi Indonesia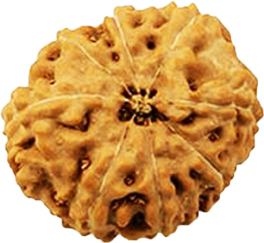 Price of Rudraksha 8 Mukhi Indonesia:
Rs.900
In Stock : Yes
Size : 10-15 mm
Weight : 1 to 3 gm.
Weight per Unit : 2-3 gm.
Buy Now
Add to Cart
100% Genuine
|
Secure Payment
|
100% Certified
Rudraksha 8 Mukhi Indonesia Original & Lab Certified
Eight Faced or Eight 8 Mukhi Rudraksha Indonesia represents Lord Ganesha, the son of Lord Shiva, who is worshipped prior to other gods. This Rudraksha is very beautiful with the eight linings present on its surface. The main planet of this Rudraksha is Rahu and it helps to cure the negative effects of Rahu. The negative impact of Rahu is similar to that of the planet Saturn. This is very useful for the individuals having Sarpa Dosha in their charts. The beads of this Rudraksha are especially used in worship and rituals because of its purity.
Eight 8 Mukhi Rudraksha Indonesia increases the strength of character and mind and helps wearer achieve happiness, fame, good health and confidence. The wearer of this Rudraksha gets all the materialistic comfort and remains unaffected by problems related to physical, spiritual or mental well-being. The wearer of this Rudraksha enjoys a long life with good health, wealth, and knowledge. The owner of this Rudraksha gains special ability and talent that helps a lot in academics.
It is useful for the business professionals, literature pursue, and the people involved in research activities. It helps in occult activities and development of intuitive faculties. This Rudraksha is really helpful for Astrologers and individuals interested in the occult. It is helpful in activities like betting, horse racing, lotteries and other similar activities where the result comes out of the probability. This Rudraksha has the energy of Saturn and helps in curing diseases of mysterious nature, harassment by spirits, nightmares, skin allergies, stress, and anxiety.
Represents
It represents Lord Ganesha.
Ruling Planet:
Rahu is the ruling planet of Eight 8 Mukhi Rudraksha Indonesia.
Best for:
It is recommended for diseases related to lungs, feet, skin and eye catarrh sis, hydrocele, and air tracia.
Day of Wearing:
One can wear this Rudraksha on Monday for the best outcomes.
Rituals for wearing:
One bead of Eight 8 Mukhi Rudraksha Indonesia is sufficient to get the desired results by the wearer. It may be strung in thread, silver or gold.
The Mantra for wearing Eight Faced Rudraksha:
There are two basic mantras that can be used while wearing eight Mukhi Rudraksha. These are "Om Kam Asta Vaktrasya", and "Om Hram Greem Lam Am Shree".
Significance of Eight 8 Mukhi Rudraksha Indonesia
It helps in removing small hurdle in daily life and helps in achieving success in every field of life.
This Rudraksha gives power of smell.
It gives power of initiation to the wearer.
It increases the level of energy in the wearer's body.
This Rudraksha bless the wearer with intelligence and wisdom as it represents the Lord Ganesha.
After wearing this Rudraksha one can be saved from the Negative influence of Ketu
Benefits of Eight 8 Mukhi Rudraksha Indonesia
It gives will power and the power of perseverance to the wearer.
This Rudraksha is really helpful for the people that are involved in some kinds of intellectual work.
It is highly recommended to Businessmen and service holder as it removes obstacles in one's path.
It blesses the wearer with positive thinking and satisfaction.
Medicinal benefits of Eight 8 Mukhi Rudraksha Indonesia
It gives relief in the problems like Leg pain.
This Rudraksha is very beneficial for the Arthritis patients.
It increases the mental energy, makes person active and slim.
If someone is suffering from muscles and bones pain, he can try this Rudraksha for its musculoskeletal system related benefits.
Astrological view
According to the Astrology, Eight 8 Mukhi Rudraksha Indonesia bead removes negative impact of Rahu and the planet Saturn. Some of the Negative impacts of Shani and Rahu are sudden fall in status, diseases of lungs, feet and skin, hydrocephalus.
Eight 8 Mukhi Rudraksha Indonesia and the Puranas This Rudraksha is the reflection of the Lord Ganesh, who is worshipped in the beginning of almost all the auspicious occurrence. Eight linings present on it make it a powerful and effective Rudraksha. Its wearer remains untouched by the physical, spiritual and mental problems of daily life. It reduces the impact of the sin caused by telling a lie and makes the life of the wearer happy. According to the Puranas, it gives the wearer all kinds of materialistic and spiritual gains – Riddhies and Siddhies and books his place in the Shivloka. This Rudraksha makes the opponent of the wearer weak and removes any evil intentions from the enemy's brains.
Benefits of this Eight 8 Mukhi Rudraksha Indonesia
VighnVinayak Lord Ganesha is the governer of this Faced beads. Hence this bead removes all the obstacles from the path of its owner, gives positive enery, motivates for professional success in life.
This bead cures the ill effects araise by Planet Rahu in bad situation in someones Horoscope chart. Skin Diseases, Ill-Dreams, sleepless Horror Dreams, negative energy (Bhoot-pret) removing, prolonged mysterious diseases all of these can be rectified by this eight faced rudraksha bead. increases intensity of occult powers & intuitive powers.
Excellent for Astrologers and individuals interested in the development of their Positive Soul Powers.
How to Wear:
Best Time (muhurat) to wear Rudraksha are During Solar(sun) or Lunar(moon) Eclipses, Mesh Sankranti, Uttarayan, Maas Sankranti, Amavasya, Poornima. By Wearing any Rudraksha Bead in this auspicious Muhurta (Times) any Human canget rid of his Bad Deeds.
मंत्र : ॐ हुम नमः
---
Tags : rudraksha, 8 mukhi, indonesia, price, buy online