Rudraksha 7 Mukhi Nepal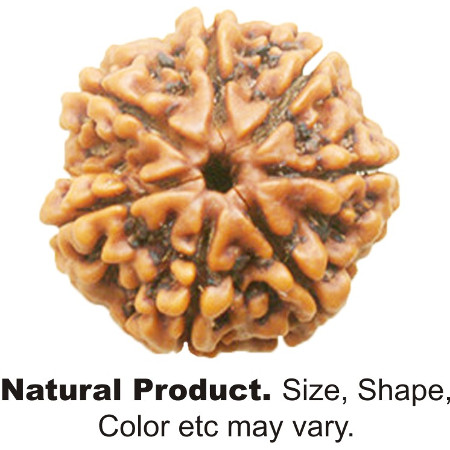 Price of Rudraksha 7 Mukhi Nepal:
Rs.900
In Stock : Yes
Size : 15-20 mm
Weight : 2 to 3 gm.
Weight per Unit : 2-3 gm.
Buy Now
Add to Cart
100% Genuine
|
Secure Payment
|
100% Certified
Rudraksha 7 Mukhi Nepal Original & Lab Certified
This sacred bead represents Seven Seas.  Wearing this Rudraksha after proper purification & charging with Mantra will remain satisfied and calm like the seven seas. The wearer of Seven 7 Mukhi Rudraksha Nepal does not desire for more and remains satisfied in his available resources. This Rudraksha provides such a varied and deep knowledge to the wearer that he proves to be unbeatable in any group discussions or meetings. The wearer of this Rudraksha shows firmness in his wordings and speaks always the Truth.
Seven 7 Mukhi Rudraksha Nepal can give the best results to the ministers, kings, writers, speakers, etc. This sacred bead is to be worn on Monday and after purification to get the best results.
Rules for the Rudraksha
The owner of the Rudraksha should repeat related Mantra along with Rudraksha awakening Mantra, daily at least nine times while wearing and removing the Rudraksha in the night before going to sleep.
Seven 7 Mukhi Rudraksha Nepal and Puranas
It represents the lord Shiva. Seven 7 Mukhi Rudraksha Nepal is Saptmatradhi Daivat, Saptashyadevat and Saptmuni Daivat. It is also known to represent Goddess Mahalaxmi. The blessing of Good health and wealth is showered on the wearer of Seven Faced Rudraksha. It is best suitable for the people suffering from problems related to body, money and mind. After wearing it, the owner can grow his business and work and start living happily. Seven 7 Mukhi Rudraksha Nepal can be worn in a red thread. Seven 7 Mukhi Rudraksha Nepal may be worn on a regular basis and the rules of Seven 7 Mukhi Rudraksha Nepal are easy to follow. This sacred bead is precious as it has a long life of thousand years if properly taken care and kept safely.
Benefit of Seven 7 Mukhi Rudraksha Nepal
Seven 7 Mukhi Rudraksha Nepal bead has the following benefits for the wearer.
The wearer of this Rudraksha is not affected by any type of poisoning.
It purifies the wearer and removes any sins resulting from theft, drug abuse, and adultery.
The Seven 7 Mukhi Rudraksha Nepal increases the luck of the wearer to another level and he may get the hidden treasure.
This Rudraksha makes the personality of the wearer, attractive and charismatic and results in increased attention from opposite sex.
It weakens the enemy and results in the reduction of their power.
This bead helps the wearer pleasing the goddess Mahalakshmi.
This Rudraksha reduces the bad luck and provides the wearer with the health and wealth.
Sapt Mukhi bead has the blessing of goddess Lakshmi and makes the goddess shower her blessing on the wearer.
This Rudraksha shows the results very quickly and the wearer is blessed with the opportunities and wealth immediately after wearing it.
It helps in solving the long standing miseries and issues by showering its positive energy on the wearer.
Size and Mantra of Seven 7 Mukhi Rudraksha Nepal
The size of Rudraksha bead should be 19 mm - 22 mm for the best outcome and the wearer should chant the mantra - Om Hoom Namah while using it.
Medicinal benefits Seven 7 Mukhi Rudraksha Nepal
This Rudraksha has some extraordinary health benefits that are the following.
Seven 7 Mukhi Rudraksha Nepal bead controls pain caused by arthritis.
It is Effective in Muscular pain.
It treats all kinds of infertility problems.
This sacred bead helps in curing Leukaemia, heart problems and throat diseases.
-
With the positive effect of Seven 7 Mukhi Rudraksha Nepal, problems like Stomach ache, impotency, dumbness, paralysis and weakness can be easily cured.
Who should wear Seven 7 Mukhi Rudraksha Nepal?
-
This Rudraksha can be worn by people interested in gaining wealth and prosperity. -
This bead is so powerful and can be very effective in curing bone and arthritis pain.
Astrological view of Seven 7 Mukhi Rudraksha Nepal
Seven 7 Mukhi Rudraksha Nepal reduces the negative influence of Shani (Negative effect of Shani/Rahu - Sudden fall in status, diseases of lungs, feet and skin, Diseases occurring suddenly without any cause, impotency, cold, obstruction, hopelessness, despair, delay in achievements, Chronic diseases, scarcity, worry.)
Benefits of this Rudraksha Bead:
Maa Mahalakshmi The Goddess of Wealth is the governer of this faced rudraksha beads. This Bead is considered to be having abundant secret mysterious powers. Having this bead helps the owner to never face poverty.
Due to special blessings of Goddess MahaLakshmi on its wearer, he always remain getting secret, hidden wealth. It is very helpful in curing long standing diseases. It is not adviced to be worn on body and is adviced to be kept secretly in the place of worship or in Cash Boxes. Due to its secret mysteries Tantriks use it and demand it very often. It is very helpfull in reducing malefic effects of Kalsarpa Yoga.
This bead also represents planet Saturn, so it helps in overcoming the bad effects of Saturn and the Sade Sati, Dhaiya & Kantak period. Cures diseases related to planet Saturn induced diseases like impotency, Legs(not foot) related diseases.
How to Wear:
Best Time (muhurat) to wear Rudraksha are During Solar(sun) or Lunar(moon) Eclipses, Mesh Sankranti, Uttarayan, Maas Sankranti, Amavasya, Poornima. By Wearing any Rudraksha Bead in this auspicious Muhurta (Times) any Human canget rid of his Bad Deeds.
मंत्र : ॐ हुम नमः
---
Tags : rudraksha, 7 mukhi, nepal, price, buy online