Ganesh Rudraksha Nepal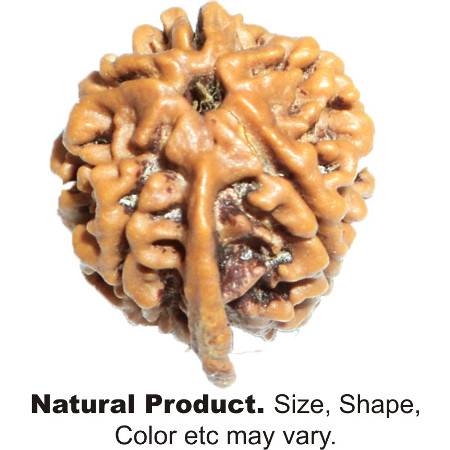 Price of Ganesh Rudraksha Nepal:
Rs.600
In Stock : Yes
Size : 15-20 mm
Weight : 1 to 3 gm.
Weight per Unit : 1 to 3 grams
Buy Now
Add to Cart
100% Genuine
|
Secure Payment
|
100% Certified
Rudraksha Ganesh Nepal Original & Lab Certified
Ganesh Rudraksha gets its name from its unique shape that resembles Lord Ganesha. This Rudraksha bead has an elephant trunk carved similarly to one on the face of Lord Ganesh. Lord Ganesha is the God of wisdom, learning, prudence, power, success and overcomes obstacles in once life. He blesses one with Riddhi-Siddhi, wealth and fame. He is the first to be worshipped in the beginning of any special beginning or occasion. The wearer of this Rudraksha gets blessings from the Lord Ganesha. He progresses in every sphere of life and the hurdles in his path get diminished. This Rudraksha brings positivity in the life of a wearer and is to be worn to achieve perfection in every facet of life.
The Main God: Lord Ganesha
Ruling Planet: No ruling planet
Best for: Perfection in every facet of life.
Day of Wearing: Monday
How to wear? It should be capped with either gold or silver metal and strung with a red thread and worn round the neck. One should not forget to chant the mantra while putting it round the neck. It can be kept at a place of worship and should be worshipped daily in a prescribed manner to gain the blessings of Lord Ganesha.
The Mantras for wearing Ganesh Rudraksha: Om Gam Ganpatayay Namoh Namah, Om Ganeshaya Namah and Om Hum Namah are the basic mantras that should be chant while wearing or worshipping the Ganesh Rudraksha.
The significance of Ganesh Rudraksha:
Ganesh Rudraksha makes the wearer successful and happy in his life.
It showers the blessing of the Lord Ganesha on wearer of this sacred bead.
The Ganesha Rudraksha is really special in a way a trunk is carved over it that makes it looks like the face of Lord Ganesha.
Benefits of Ganesh Rudraksha:
It removes the negativity and obstacles in the path of the wearer and showers the blessings of Lord Ganesha on him.
This Rudraksha blesses the wearer with abundance, prosperity, Riddhies, and Siddhis.
Astrological view:
This Rudraksha has no ruling planet. Ganesha Rudraksha gives the blessings of Lord Ganesha to the wearer.
Ganesh Rudraksha and Puran:
According to the ancient scriptures and Puran, Ganesha-Rudraksha emits positive energy and brings success in every field in the life of a wearer. It helps in removing all the obstacles from the life of wearer and brings luck. It also reduces the negative effects of Ketu. Since Lord Ganesha is the son of Lord Shiva and Parvati, the wearer gets the blessings of both Lord Shiva and Mata Parvati.
Procedure to energize Ganesh Rudraksha:
The auspicious date and day are chosen by a Pundit according to the name, place of birth and date of birth of the wearer. All negative thoughts should be removed from the mind before starting the procedure with help of Mantras specified. Firstly, a Pran Pratishtha Puja of Ganesh Rudraksh by fitting it on a carpet and placing it on the floor facing North, East or North East. It is washed and opened by soaking it in the water and milk. A sandalwood paste is prepared and is applied on the bead. After the paste is applied, Ganesh Rudraksha is established on a seat prepared for it near an idol of Lord Shiva.
Fruits, Fresh Flowers, Sweets, and a Prasaad prepared by milk, holy-water, ghee, curd, and honey are offered to God Shiva and to the Rudraksha. The Puja starts by taking the name of the wearer, place of Birth and Date of Birth to awaken the Rudraksha for the person. This Rudraksha blesses the wearer wealth, health and a peaceful life. Beeja mantra and "Om Hum Namah" are chanted by looking at it for about 108 times before wearing it. To get the blessings, other mantras are also chanted to please God Shiva like Om Ganeshaya Namah, Om Gam Ganpatayay Shiva Namoh Namah, and Om Hum Namah. This process of repeating the Mantras is called Pran Pratishtha, and results in the awakening of the Rudraksha. The awakened and energized Rudraksha makes the life of wearer, smooth and obstruction free.
Benefits of this Rudraksha Bead:
The governer of this bead is the Lord of Siddhi and Buddhi i.e. Lord Ganesha.
This rudraksha Removes all the hurdles that are faced by an individual in his works and life path.
It gives Ideas and Strength to start Any auspicious New Work or Business in Life.
It increase intellectual capacity of mind and finishes the forgetfullness of individuals mind.
It is very important and usefull for those people who want to increase their spiritual level or do satvik sadhnaas for the upliftment of their Mind, Body and Soul.
How to Wear:
Best Time (muhurat) to wear Rudraksha are During Solar(sun) or Lunar(moon) Eclipses, Mesh Sankranti, Uttarayan, Maas Sankranti, Amavasya, Poornima. By Wearing any Rudraksha Bead in this auspicious Muhurta (Times) any Human can get rid of his Bad Deeds.
---
Tags : ganesh, rudraksha, nepal,